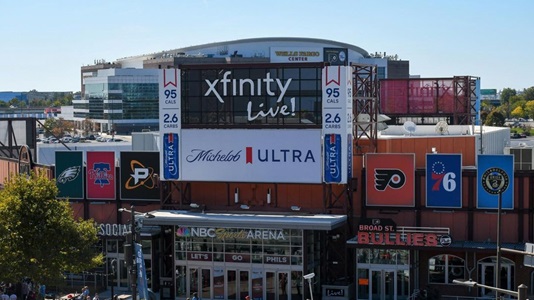 News
Toast the start of 2023 at a massive Xfinity Live! New Year's Eve party

Tickets are on sale now for the celebration, which includes premium food and drink packages, live music, karaoke and a champagne toast.

Inside the Boozy, Rowdy Vortex of the Philadelphia Sports Boom

The Phillies are in the World Series. The Eagles are undefeated. The Flyers and 76ers are ramping up. After each game, win or lose, everyone throws down at the same place.




Phillies-Astros World Series: Where to Watch in Philadelphia

We've compiled a list of where to watch based on what area you live in.




At Xfinity Live!, World Series watch parties replace Halloween masquerades

Phillies fans can see Games 1 and 2 this weekend on the venue's 32-foot screens. There also will be live music, giveaways and postgame entertainment.





16 Philly Sports Bars Where You Can Catch the Big Game

Whether you're trying to catch an Eagles, Phillies, Flyers, or Sixers game, these bars will be open and streaming.




Bars with Game Day Specials and Rowdy Atmospheres for the 2022 Phillies Playoffs

Where to cheer on the Fightin' Phils during their 2022 playoff run.

In Philadelphia, the boos are gone and the 'vibes are flowing'

One round of giddy mayhem had already erupted Saturday night inside Xfinity Live!.




Cheer on the Phillies during playoff games this week at an Xfinity Live! watch party

Fans can enjoy drink specials, games and giveaways as the Phillies' square off against the Atlanta Braves.