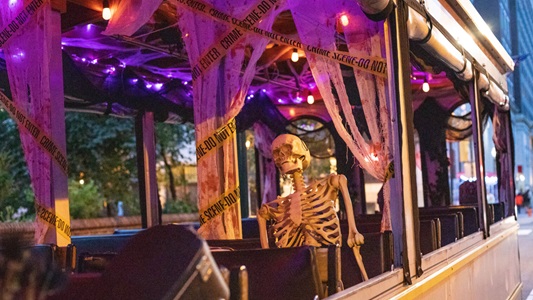 Where to celebrate spooky season in Philadelphia
Xfinity Live! Halloweekend
Just in time for the spooky season, Xfinity Live! recently announced the return of its annual Halloweekend activation featuring two back-to-back masquerades later this month. "Screams in the Stadium District" will be first up on Friday, Oct. 27, from 8 p.m. to 2 a.m., and then "A Haunting on Pattison Ave." will then follow on Saturday, Oct. 28, from 8 p.m. to 2 a.m. as well.
Both nights will include costume contests with over $1,500 in cash prizes, plus a variety of entertainment spanning live music, DJ sets, a silent disco, karaoke, bull riding, and more. Plus, Philly's Drag Mafia will be back at the venue beforehand with a HallowQueen Drag Brunch on Sunday, Oct. 15 to kick off the season on an energetic note.
For the two nights on Halloweekend however, each of the five venues will offer different tricks and treats all under one roof, including karaoke in Broad Street Bullies Pub, silent disco in 1100 Social, bull riding and buckle bunnies in PBR Philly, live music in Victory Beer Hall (Engine #9 on Friday night and then Split Decision on Saturday night) and DJs in the NBC Sports Arena, a release states. Tickets are $10 for each event and they are available for purchase now online, or, Philadelphians can purchase tickets for $5 more ($15) at the door on Friday or Saturday.
But before, Drag Mafia's Brittany Lynn will be at the Xfinity Live's Outdoor Plaza on Sunday, Oct. 15, at noon. While there, guests can enjoy a specialty brunch menu, themed cocktails and an highly energetic show. Doors open at 11 a.m. on that date, and note, any patrons must be 21+ to enter.
Read full article here.
By: Molly Given