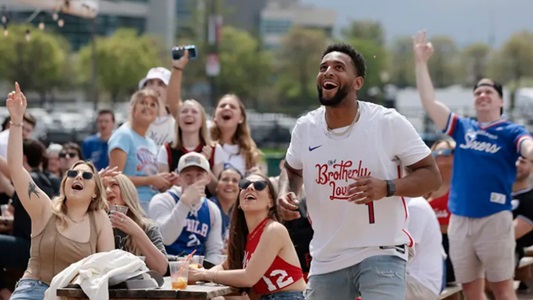 17 Philly bars and restaurants where you can watch the game outside
Philly sports continue to dominate this year. With our Phillies headed to the playoffs and football season back at it, we're down to be in the stands.
Not everyone is lucky enough to have tickets for their favorite sporting events though. In those times, dozens of sports bars stand in the gap and offer beer, grub and a space to celebrate or commiserate with other fans.
With drink specials, activities and blow-up TV screens, check out where you can cheer on the Phillies with sips, food, and a ton of open space.
Xfinity Live!
You can't watch the game in the Linc, but you can still watch it nearby — on the 58 feet television on Xfinity Live's patio. Before home games, check out DJ Smooth tailgates full of food, drinks, and a variety of green cocktails. Looking for something to do during Half-Tim? Check out Geno's Steaks Cheesesteak eating contests. Reserve a spot at Seven Rooms, or walk in at Victory Beer Hall and Broad Street Bullies.