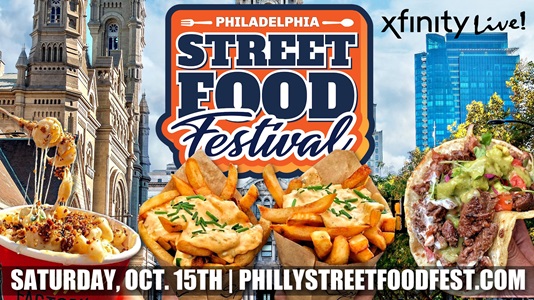 Street Food Fest
Sample Philly's best food trucks & restaurants!
The 1st ever Philadelphia Street Food Festival is coming to Xfinity Live!. This spectacular event will feature the Philadelphia area's best food trucks & restaurants with all food items priced at $5 or less! This will give guests the opportunity to sample a wide range of flavors & options from over 20+ vendors! Come for the food, stay for the fun as there will be tons of live entertainment, general vendors, axe throwing, an indoor beer hall, mechanical bull riding, free hard seltzer sampling, crazy eating challenges, family-friendly activities & more!
● The Philadelphia Area's BEST Food Trucks & Restaurants
● 1st Drink FREE
● Cheese Fry Fountain & Bar
● All Food Items $5 or Less
● Live Entertainment
● Free Hard Seltzer Sampling (VIP Ticket Holders)
● Crazy Eating Challenges
● Axe Throwing
● Kids Pumpkin Patch & Painting
● Live Music on the Bud Light Seltzer Outdoor Stage
● Karaoke in Broad Street Bullies Pub
● Mechanical Bull Riding and World-Famous Buckle Bunnies in PBR Philly
● Silent Disco in 1100 Social
● DJ & Sports Game Watch Party in NBC Sports Arena
● Live Band in Victory Beer Hall
● Kids Fun Zone (Face painters, bounce houses, etc)
● Foods from Around The World
● General Vendors
● Games, Activities & Fun for ALL AGES!
GENERAL ADMISSION TICKET (Early bird price & limited!) 2PM-8PM
● Festival Entry (2PM entry)
● 1st Drink FREE
VIP ADMISSION TICKET (Early bird price & extremely limited!) 12PM-8PM
● 2 Hour VIP early admission (12PM entry)
● 4 Drink Vouchers (Beer, Wine, Soda & Water)
● $10 in Food Vouchers
● Exclusive VIP Area
● Axe Throwing Voucher
● Custom Signature Keep Sake
TICKET VOUCHER SYSTEM & BEVERAGES: Vendors will be selling their food items for $5 or less and the entire festival will work on a normal cash/credit system. Food vouchers will only be provided to VIP guests which can be exchanged for all food-related items. Drink vouchers can be redeemed for Beer, Wine, Soda or Water.
KIDS TICKETS: This event will be fun for the whole family & children 10 & under are FREE!
Xfinity Live! has updated their security and bag policy. Find more information here.
Army vs. Navy

Xfinity Live!

Secure your table now!

UFC 282 Watch Party

Xfinity Live!

Xfinity Live! is your UFC Watch Party destination. FREE Entry!

Birds vs. New York

Xfinity Live!

Secure your table now!

Big Gay Holiday Drag Brunch

Xfinity Live!