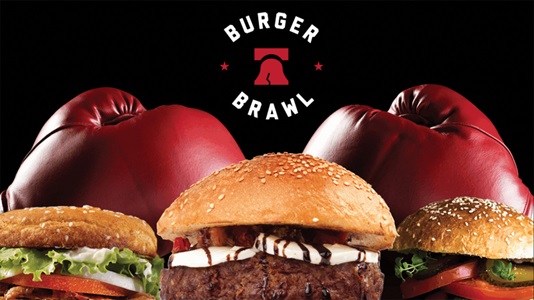 Philly Burger
Brawl
A Culinary Competition to Support the Fundamentals of Generations to Come!
Philly Burger Brawl attracts 60+ of the areas leading restaurants and chefs to compete in battles for best of burger! 2022 will be a special year that will highlight the resilience and creativity our restaurantuers displayed as they navigated through the COVID-19 Pandemic. Hosted this year at Xfinity LIVE!, Philly Burger Brawl pulls an audience of 5,000+ participants including eating attendees, culinary bloggers, celebrity judges, and the region's leading companies who serve as generous sponsors. Philly Burger Brawl provides intimate moments for attendees to engage online and in-person with restaurants, merchants at the event, and sponsors, to deliver an experience that is more meaningful to all.
Leave it to the culinary community to find a fun, albeit a wildly competitive way, to use food in raising money to support our City's youth.
VOTING:
Download the (free) Let's Rallie App to vote during the event!
UFC 278 Watch Party

Xfinity Live!

Xfinity Live! is your UFC Watch Party destination. FREE Entry!

Birds vs Detroit Away Game Watch Party

Xfinity Live!

Secure your table now!

Ten Year Kickoff Concert

Xfinity Live!

Tickets on-sale now!

Home Opener '22

Xfinity Live!

Secure your table now!