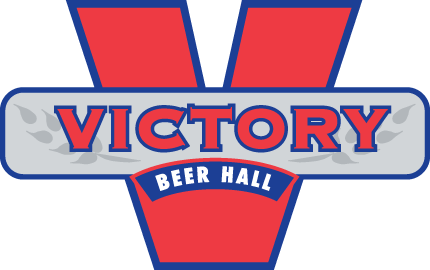 A Celebration of Pennsylvania's Craft Beer
In partnership with Philadelphia's Victory Brewing Company, Victory Beer Hall is an unrivaled social experience, featuring elongated, beer hall style tables, a stage for live indoor entertainment, and a 2,000 square-foot patio complete with a fire pit and a unique panoramic view of the Philadelphia skyline.
Victory Beer Hall's signature is its celebration of craft beer, featuring an eclectic selection of regional Philadelphia brews including Hop Devil, Dirtwolf, Summer Love Golden, Summer Love Hazy, Liberty Bell, Golden Monkey, Sour Monkey, Tart Monkey, Cloud Walker, Brotherly Love, Easy Ringer & more!
Beer selection subject to change based on availability.
PHILLY'S BEST NIGHTLIFE EVERY WEEKEND
🎶Live DJs Spinning in NBC Arena Sports Arena
🎤 Karaoke in Broad Street Bullies Pub
🎧 Silent Disco in 1100 Social
🎸 Live Bands in Victory Beer Hall
🤠 Bull Riding in PBR Philly
A 3% facilities fee will be added to the total of each check. This fee is not a tip or service charge.