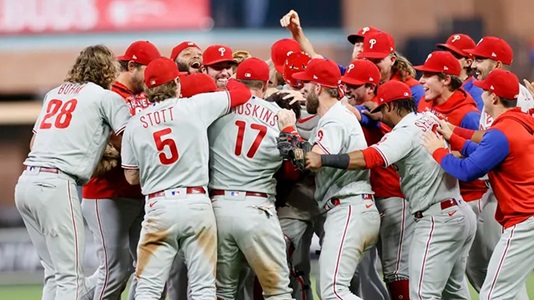 17 great sports bars to watch October baseball in Philly
It's been over a decade since the city's last Phillies playoff beer, and the fans are thirsty. After that 3-0 series win over the Houston Astros, our Fightin' Phils claimed a spot in the National League division playoffs and will take on either the St. Louis Cardinals or the New York Mets in the wild-card round, which begins Friday.
Fans looking to watch some October baseball in person can do so via secondary ticket markets like StubHub, Vivid Seats, TicketSmarter and Ticketmaster. And as always, tickets to games at Citizens Bank Park will be available through the Phillies official ticketing system on the MLB Ballpark app or My Tickets account.
But, it looks like tickets on any website will be expensive. So, if you can't get playoff tickets — or you just don't want to watch at home — there are some excellent options in Philadelphia to suit all your game-day needs.
Near the Stadium
Xfinity Live!: One of the biggest bars and screens for watching sports in the city, it's always a party down at Xfinity Live, right outside the entrances to the South Philadelphia Sports Complex.
Read full article here.
By: Henry Savage