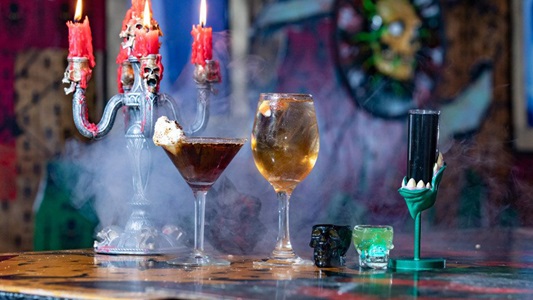 Halloween for Grownups: Pop-Up Bars, Spooky Soirées and More Philly Haunts
You're never too old for Halloween. Dressing up? Check. Eating candy? Absolutely. Watching Hocus Pocus for the 25th time? No problems there. But if you're a grownup who wants some extra Halloween festiveness, you've got options beyond tagging along with your kids (or your friend's kids who you've suddenly befriended in hopes of fun-size Snickers leftovers) for trick-or-treating. In fact, there are more options than ever, with brand-new pop-up bars, haunted houses, spooky soirées and so much more.
Halloween Parties, Performances and More
Drag Brunches
From the Sanderson sisters to Harry Potter, there is no shortage of BOOzy drag brunches around town. Here are our top picks:
HallowQueen Drag Brunch with Philly Drag Mafia at Xfinity Live, $25; October 15th, 11 a.m., 1100 Pattison Avenue
Xfinity Live Halloweekend Parties
The sports-complex behemoth offers two back-to-back masquerade nights: Screams in the Stadium District on Friday October 27th, and A Haunting on Pattison Ave. on Saturday October 28th. Both parties will include costume contests (with over $1,500 in cash prizes) and entertainment including live music, DJ sets, silent disco, karaoke and bull riding.
Read full article here.
By: Laura Swartz