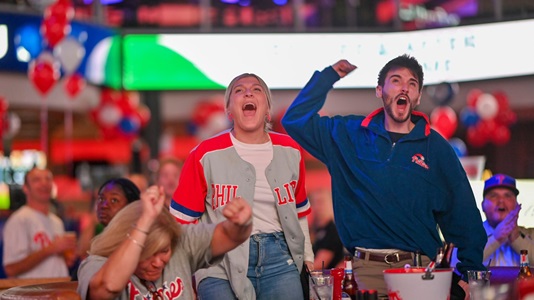 In Philadelphia, the boos are gone and the 'vibes are flowing'
PHILADELPHIA — One round of giddy mayhem had already erupted Saturday night inside Xfinity Live, the cavernous, two-story sports bar just steps away from Citizens Bank Park. About 90 minutes after the Philadelphia Phillies advanced to the National League Championship Series, having watched smoke machines spew and drinks spill from his second-floor office, director of operations Justin DeSalvo received a call from Paige Hartman, a frequent lunch guest and the wife of Phillies slugger Kyle Schwarber.
"Hey," Hartman said, "the guys want to come party."
"Give me 20 minutes to get an area ready," DeSalvo replied.
"Sorry," he told patrons as he cleared out the upstairs bar. "The Phillies are coming."
The entire roster walked across the street and crowded around the circular bar. Slowly, double-taking fans on the ground floor noticed the ballplayers leaning over the railing. The sound system blared, "Dancing on My Own," the goofy clubhouse anthem the Phillies play during celebrations. Surrounded by teammates, Bryce Harper sprayed an oversize bottle of champagne onto the crowd below, a full convergence of team and fan base.
Read full article here
By: Adam Kilgore