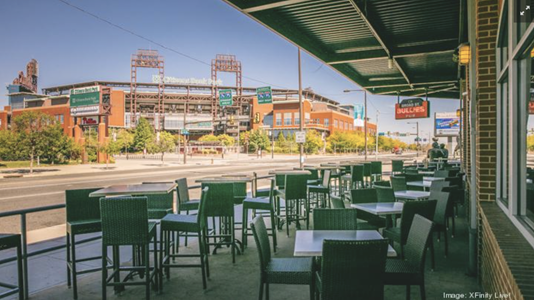 Inside the reopening of Xfinity Live!
South Philadelphia dining and entertainment complex Xfinity Live! is reopening this month in its second relaunch since the Covid-19 pandemic hit, this time looking to tap into traffic from the Stadium District's new casino.
After closing in March 2020 and reopening last July under strict coronavirus limitations, the 50,000-square-foot venue at 1100 Pattison Ave. shuttered once again in mid-November. Now the venue is springing back to life on May 18, when the Phillies play the Miami Marlins at Citizens Bank Park and the 76ers will be preparing to host the opening game of a first-round playoff series at the Wells Fargo Center.
This will be Xfinity Live!'s first time up and running alongside the new Live! Casino & Hotel Philadelphia, which officially opened in February. Both projects fall under the umbrella of Baltimore-based The Cordish Cos.
The two properties will "complement each other," with each offering a unique experience and different feel, said Xfinity Live! Chief Operating Officer Tony Monaco. The casino offers gaming and high-end dining options, while the main focus at Xfinity Live! is entertainment mixed with various food and beverage options, he added.
A shuttle service will run throughout the day between the two venues. It will operate seven days a week.
"We always wanted to see more things come down to the Stadium District to make it more of a place that people are coming all the time, as opposed to just when there are sporting events, so that really helps out," Monaco said of the new casino.
Citizens Bank Park is operating at 25% capacity while Wells Fargo Center is at 20% capacity under current Philadelphia Covid-19 guidelines. Less people in the Sports Complex means less foot traffic that would typically wind up at Xfinity Live!, but Monaco noted there is also a steady crowd that visits the Stadium District just to watch games at the sports bar.
He anticipates restrictions easing around sporting events throughout the year, with business largely returning to normal at Xfinity Live! by the end of 2021.
Gov. Tom Wolf is lifting all Covid-19 restrictions on gatherings, restaurants and other businesses on May 31, though Philadelphia has operated under more restrictive local guidelines throughout the pandemic and has not yet made a clear decision on whether it will follow suit.
Xfinity Live!, which can accommodate nearly 3,000 people inside and up to about 1,500 people outside, is reopening with a new menu in its NBC Sports Arena, which boasts a 32-foot TV. Dishes include a jalapeno popper burger ($13.95), bourbon skirt steak ($23.95) and southwest turkey wrap ($13.95).
The sports bar meets Philadelphia's HVAC requirements for expanded indoor dining during Covid-19, and as such is able to open at 75% capacity indoors, Monaco said. However, with social distancing requirements and restrictions on how many guests can sit at a table he anticipates actual capacity will fall below that threshold.
Xfinity Live! owns and operates all its food and beverage kiosks, such as outposts of local staples Chickie's & Pete's, Geno's Steaks and Lorenzo and Sons Pizza, via license agreements, Monaco said. As such, it didn't lose any of its offerings during the pandemic. The main difference at the reopened venue will be limited bar service as the concept operates under Covid-19 guidelines.
Navigating ongoing coronavirus restrictions comes as Xfinity Live! looks to bounce back from "a big financial hit" it sustained in 2020 due to Covid-19. With the venue entirely closed at least five months out of last year and operating at limited capacity the rest of the time, Monaco estimates the business did between 10% and 15% of typical pre-pandemic business.
The entertainment complex is aiming to open with about 150 employees, and has so far hired about 70% to 80% of that count, he added. Xfinity Live! originally wanted to reopen on the Phillies' opening day, but many pre-pandemic workers had moved on to other jobs, leaving the concept to train a new staff.
By: Laura Smythe