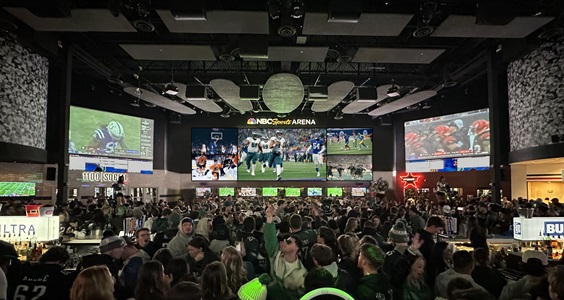 Xfinity Live! to debut huge new LED screen in time for baseball season
Xfinity Live! has been the home of many celebrations over the past few months — between the Phillies' and Eagles' deep postseason runs — and the South Philly venue is getting a major upgrade in time for upcoming seasons.
A huge new LED screen is being installed in the NBC Sports Arena section of Xfinity Live! ahead of the start of the Phillies' regular season and the March Madness tournament.
The new LED game-viewing screen will measure 58 feet by 14 feet. It nearly doubles the size of the previous screen, which was 28 feet by 14 feet.
Construction and installation of the screen is expected to be completed by mid-March, in time for the NCAA Division I Men's basketball tournament as well as the 2023 MLB season, which officially kicks off for the Phillies on Thursday, March 30 at 4:05 p.m. against the Texas Rangers.
Xfinity Live!, located at 1100 Pattison Avenue, will remain open during the LED screen's construction, but the bar located directly under the new screen will be closed temporarily.
Along with upcoming March Madness screenings from March 14 through April 3, visitors can check out the new screen during Xfinity Live's new Weekend Happy Hours, featuring drink specials every Friday and Saturday starting March 17.
Read full article here.
By: Franki Rudnesky