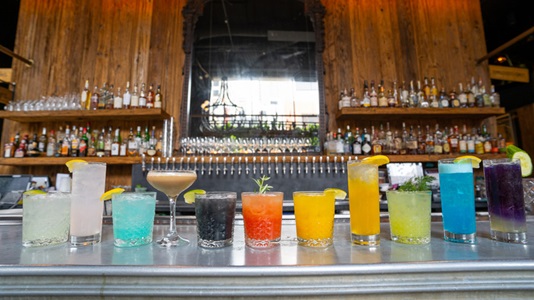 Philly's Food and Drink Pride Specials That Benefit LGBTQ+ Organizations
From wine flights to drag teas, here's where you can celebrate Pride and support LGBTQ+ charities around Philadelphia.

In addition to all of this month's parties, drag performances, and Pride celebrations, there's a slew of food and drink specials that benefit LGBTQ+ charities — both locally and nationally. So make those reservations (and pack extra dollar bills for tipping the performers while you're at it).
More Drag Brunches with Brittany Lynn
In addition to Sofitel's Drag Tea, you can catch Miss Brittany Lynn and her friends for brunch around town. On June 12th, The Wayward is hosting two brunch seatings (11:30 a.m. and 2:30 p.m.), each with a $35 prix fixe menu and a la carte beverages. Then, on June 19th at 11 a.m., catch them at Xfinity Live. On June 26th at 2 p.m., there's also an all-ages brunch happening atop the city at Bok Bar — tickets are available for tables of two, four, or six, with a la carte food by Kalaya.
Read full article here.
By: Laura Swartz