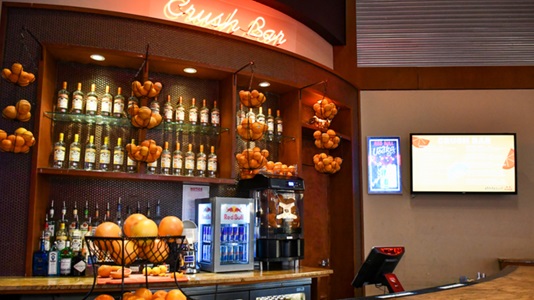 Crush Bar at Xfinity Live! will serve orange crush cocktails, a shore town staple
Philadelphia sports fans dreaming of warmer days ahead can trek to Xfinity Live! this winter to indulge in summer-themed drinks at a new bar specializing in the orange crush cocktail, a staple in shore towns across the Mid-Atlantic.
Crush Bar, which will be open near the south entrance of the NBC Sports Arena on Friday and Saturday nights, will serve up the refreshing summer drink along with nine other variations made with fruit-flavored vodka.
"Now that the holidays have come and gone and the dead of winter lies ahead, people will probably start dreaming of warmer days spent on the beaches of Ocean City, Maryland and the Jersey Shore," said Justin DeSalvo, director of operations at Xfinity Live! "Our goal is to transport our guests to their favorite beach towns with the quintessential summer sipper."
The bar's menu includes the classic cocktail along with options featuring blueberry vodka, lemon vodka, grapefruit vodka and tequila. There's even a 32 oz. fishbowl cocktail meant to be shared with friends.
The themed bar, set beneath a neon sign and adorned with oranges, grapefruits and lemons in hanging baskets, allows patrons to enjoy a little bit of summer fun, even as the days get colder.


The orange crush cocktail was first served at the Harborside Bar & Grill in West Ocean City, Maryland in the fall of 1995. The drink is made by "crushing" two halves of an orange in an industrial juicer and mixing in orange-flavored vodka, triple sec and lemon-lime soda over a heaping pile of ice.
While the recipe has been duplicated countless times by other bartenders, the original has remained fairly consistent over the last two decades, bartender Phillip Lewis told the Baltimore Sun in 2017.
In the years that have followed, it's become easy to find an orange crush — or some variation — in nearly every beach town in the Mid-Atlantic. There are even a few variations in Philly, including the Gritty Slush at Bud & Marilyn's and a classic orange crush at Lucky's Last Chance in Manayunk and Queen Village.
In addition to its regular hours on Friday and Saturday nights, Crush Bar will be open before and after all events in the Stadium District and during all Xfinity Live! events.
Read full article here.
By: Maggie Mancini