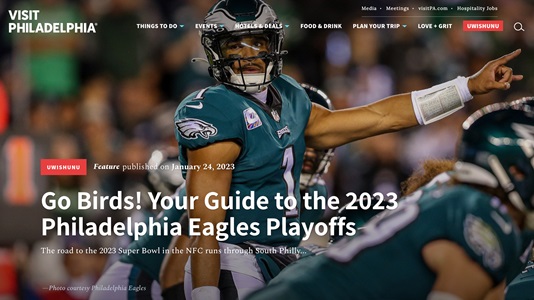 Go Birds! Your Guide to the 2023 Philadelphia Eagles Playoffs
After an incredible and expectations-smashing 14-3 regular season, the Philadelphia Eagles have secured home field advantage throughout the 2023 playoffs, meaning the road to the Super Bowl in the NFC runs through South Philly.
The Birds now find themselves just one victory away from a trip to the 2023 Super Bowl in Glendale, Arizona.
Next up: a huge matchup with the San Francisco 49ers in the NFC Championship Game on Sunday, January 29, 2023 at 3 p.m.
Here's everything you need to know about where to watch, the best things to eat and drink, and where to score game day gear during this wild postseason run.
Note: We'll be adding information about Eagles pep rallies, food and drink specials and more throughout the week, so bookmark this page and check back often.
Where to Watch the Eagles Playoffs at Sports Bars & Breweries in Philadelphia
Clear eyes, full beer, can't lose. If you can't make it to the Linc, toast to an Eagles' victory at one of the sporty spots below. Looking for more? Check out our picks for the top sports bars in Philadelphia.
XFINITY Live!: This sprawling entertainment complex is (quite literally) the next closest thing to being inside the Linc on game day. Located catty corner to Lincoln Financial Field, XFINITY Live! features five standalone bars, each with its own vibe. On game day, expect a rowdy crowd of green-clad fans, hooting and hollering for each big play. Reservations are now open for the NFC Championship Game. For those without reservations, standing room is available on a first-come, first-served basis. The space is expected to be at capacity hours before kickoff. Translation: Get there early (1100 Pattison Avenue).
Read full article here.