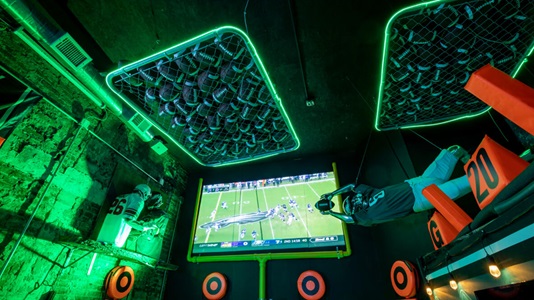 THE BEST PHILADELPHIA EAGLES RELATED SPORTS BARS TO WATCH SATURDAY'S (FIRST) BIG GAME
With the 2023 NFL playoffs off to a mean weekend start on Saturday, and the New York Giants forced to take on the Philadelphia Eagles on the Birds' home turf at the Lincoln Financial field, those who don't have tickets have only one question: where the hell can I drink to Philadelphia football and surefire victory?
That isn't my house?
To that, Philadelphia Weekly offers up a list of the best locations and finest drink concepts geared around the Eagles victory.
Xfinity Live!, 1100 Pattison Avenue, Philadelphia, PA
If you can't be inside the Linc, the next best place to watch the game is right outside the Linc, across the block at Xfinity Live!, Yes, there're serving NFL playoff games the city's largest TVs at 32', and yes, a live DJ will more than likely spin "Fly Eagles Fly" and their new Christmas album on repeat, Also you can sit outside the Broad Street Bullies Pub if you really like hockey on this day. Bozo.
Read full article here.
By: A.D. Amorosi