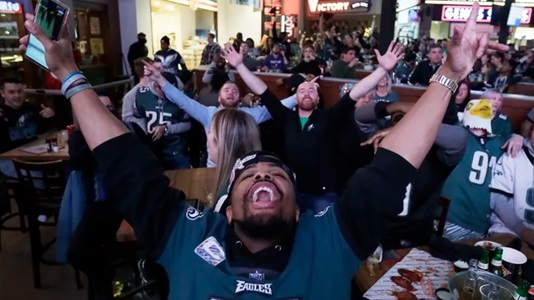 Break out your Kelly greens for these Eagles watch parties in Philly
Philly will be witnessing sports history being made this weekend as The Birds begin their journey to Super Bowl LVII.
This Saturday, the Eagles play their first playoff game against the New York Giants at 8:15 p.m. at Lincoln Financial Field. Right now, tickets to the game start at $250 a pop, so they can be expensive for most. Instead, grab your friends and find a local watch party to attend — from classic pub joints to vibrant club venues.
Here are 10 Eagles playoff watch parties in the Philly region this Saturday (all watch parties listed are free unless stated otherwise).
Eagles vs. Giants watch parties in the Philadelphia region
Xfinity Live!: Smack dab in the middle of all the stadiums in South Philly is Xfinity Live!, one of Philly's preeminent sports bar viewing experiences. With massive screens, packed crowds and electric in the air, this year might be even wilder according to reports that Giants fans are holding their own tailgate at the venue. Party starts at 8 p.m.
Read full article here.
By: Henry Savage