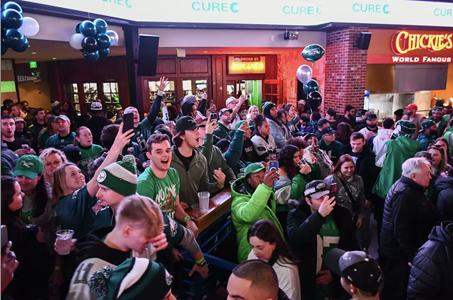 The Best Places in Philly to Watch the Eagles Win the Super Bowl
In a city home to the country's most notoriously rabid sports fanatics—where the street poles are greased up to (try, and fail to) keep fans from climbing them—the Eagles facing off against the Kansas City Chiefs at the Super Bowl is a seismic event.
No one in town on Super Bowl Sunday should be cooped up at home; they should be out in the city, surrounded by diehard fans. So we tapped one diehard fan to share all the best spots to watch the big game.
Aunt Mary Pat, the green eyeshadow-donning, chain smoking, Delco-accented grande dame of Acme, first entered public consciousness in 2018, the last time the Eagles played in the Super Bowl (and won). Five years later, Aunt Mary Pat, performed by Troy Hendrickson, is reveling in another Eagles Super Bowl berth.
As Hendrickson prepares to retire Aunt Mary Pat from live performances later this year, the serendipitous bookending of the character's tenure with a local showing in the Super Bowl isn't lost on him. "So I planned it perfectly," Hendrickson says. "I started with an Eagles Super Bowl, I'm ending with an Eagles Super Bowl."
Read on for the devoted Birds fan's picks on where to watch the Eagles take on the Kansas City Chiefs in Super Bowl LVII.
Xfinity Live!
The massive entertainment center a stone's throw from the stadiums is one of Aunt Mary Pat's favorite spots for revelry and a lively crowd. "But you're not going to get a table because everyone and their mom's going to be there," Hendrickson says. Xfinity contains five unique bars within its 80,000-square-foot footprint, making it one of the biggest spots to crowd into on game day.
Read full article here.
By: Allie Volpe