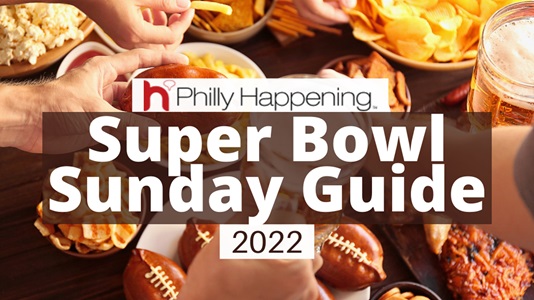 2022 Philly Super Bowl Sunday Guide
It's time for the big game again! Super Bowl LVI is scheduled to be played this Sunday February 13, 2022 at SoFi Stadium in Inglewood, California, home of the Chargers and Rams. The Halftime show is sure to be a winner with performances by Dr Dre, Snoop Dogg, Eminem, Mary J Blige and Kendrick Lamar. Whether you tune in for the commercials, show up for the wings or are rooting for your favorite team, our 2022 Super Bowl Sunday Guide has all the details for where to enjoy the action in Philadelphia. Game day celebrations, where to find the best wings and pizza, and tips for hosting a game day party at home are all right here. Whether you decide to go out and watch the game on the big screens or enjoy your favorite party foods at home, we've got all the information you need for a perfect Super Bowl Sunday.
The Big Game at Xfinity Live!
When: February 13th, 6:30 pm
Where: 1100 Pattison Avenue, Philadelphia, PA
The party is on at Xfinity Live! Watch the big game on the 32 ft. LED TV screen in NBC Sports Arena with game sound. Email Paula DiMauro at paula@xfinitylive.com to reserve a table.
Read full article here.
By: Sophia Dewald