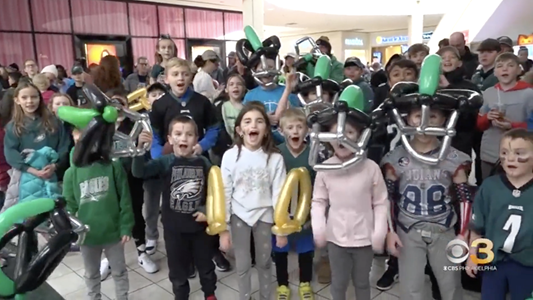 Eagles-Chiefs: Super Bowl LVII watch parties, events in Philly area
PHILADELPHIA (CBS) -- The Eagles will take on the Kansas City Chiefs on Sunday in Super Bowl LVII at State Farm Stadium in Glendale, Arizona.
Some Eagles will make the trip west for the big game, but the majority will be taking in the action in the Delaware Valley.
Here's a list of watch parties, sports bars and other events to watch the Super Bowl between the Eagles and Chiefs this weekend in the Philadelphia area.
Birds Big Game Bash
At Xfinity Live, Eagles fans get to watch the Birds take on the Chiefs in South Philly, right outside the sports complex. Tickets for the indoor general admissions are sold out, but the outdoor tailgate tickets are still available.
Read full article here.
By: Tom Ignudo