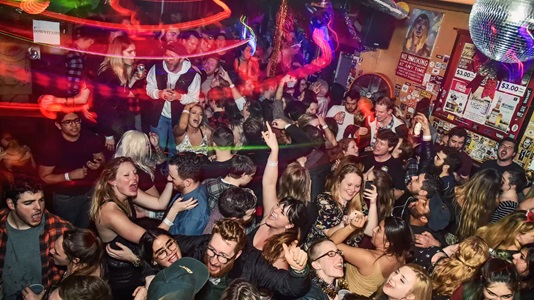 The Coolest Ways to Ring in 2023 in Philadelphia
Another year in the books, another one on the horizon. 2022 was another banner year for Philadelphia: The Phillies had a World Series run, a whole lotta new restaurants opened, and Center City Sips made its grand return—among many other milestones. So before turning the calendar to 2023, give 2022 a proper sendoff with parties galore, plus a few tamer goings-on if your bedtime is earlier than midnight, on our list of the best ways to celebrate the new year in Philadelphia.
Live it up with South Philly's finest
Xfinity Live!
Down by the sports arenas, a labyrinthian multi-venue party will take place at the legendary entertainment complex Xfinity Live! Each of the bars within the space features unique entertainment, like a DJ in the NBC Sports Arena, a silent disco in 1100 Social, and live music in Victory Beer Hall. A very Philly food menu from Geno's Cheesesteaks, Chickie's & Pete's and Lorenzo and Sons Pizza will be available, as will an open bar. If you upgrade to VIP, you'll have designated seating and private restrooms, too.
Read full article here.
By: Allie Volpe