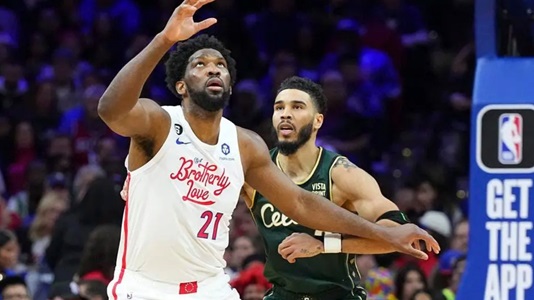 The Seven Best Basketball Bars to Drink and Dine Around The Philadelphia 76ers Playoff Games And How The Sixers Can Trounce The Celtics
Forty years after the 1982-9183 Philadelphia 76ers took it all in the NBA Championships, the Sixers are back in the playoffs, and, again, up against the Boston Celtics for their third playoff showdown in the last six seasons. Isn't it about time that Joel Embid can change the polarity of what happened during those last two meetings?
Along with the treasured #21, the 2023 76ers has team vets Jaylen Brown, Marcus Smart, Jayson Tatum, and Tobias Harris and relative newbies James Harden, Tyrese Maxey and P.J. Tucker in on the attack. Now, I am no coach, and will make no attempt at quarterbacking this playoff, save to say that the Sixers need to ward away the Celtics guards from messing up Embid's game. Without encouraging Philadelphia sports fans (who need no encouragement) from doing anything stupid from the stands, can we change out the Celtics' kicks? Make them squeaky? Something dumb, not violent?
Please watch The Process emerge for the start of what could (should) be the 76ers first NBA Championship in 40 years between April 29 (that last Brooklyn Nets game, please be gone) and the Boston Celtics on Monday May 1 at:
Xfinity Live!
Sports Complex Row in South Philadelphia has no better friend to the Philadelphia 76ers than this glittering, loud booze, beer, dining and entertainment palace – to say nothing of having more mega-sized LED screens than I can count.
Read Full Article here.
By: A.D. Amorosi