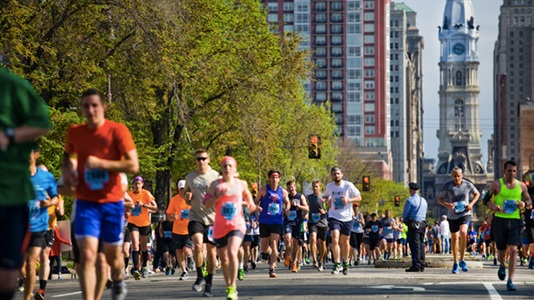 2023 Broad Street Run: Course details, road closures, SEPTA detours and everything else you need to know
The finish line is at the Sports Complex in South Philly. Runners will turn off South Broad Street and onto Terminal Avenue, which becomes 11th Street. They will finish the race at Lot K between the Wells Fargo Center and Lincoln Financial Field.
At the finish line, runners will receive medals and refreshments. They can meet up with family members and friends, and stop at the Xfinity Live! afterparty. The full race course can be found on the Broad Street Run's official website.
The Broad Street Run Afterparty, hosted by Michelob Ultra, takes place at Xfinity Live! from 9 a.m. until 3 p.m. Families are welcome, but only those 21 and older will be permitted to drink. No parking will be available due to road closures.
The afterparty includes DJs, live music, indoor and outdoor activities, food trucks and lawn games. All the venue spaces inside Xfinity Live! will have their own live entertainment. Full-service dining will be available, and seating is first-come, first-served.
Read Full Article here.
By: Maggie Mancini