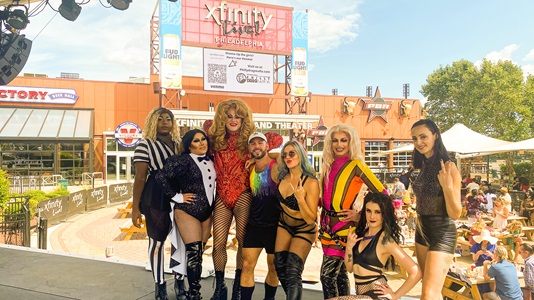 Slay Ride
Holiday Drag
Brunch
The Perfect Holiday Gift!
Come to sleigh! Brittany Lynn and her Drag Mafia are ready to put you in the holiday spirit with 'Slay Ride - Holiday Drag Brunch' inside Victory Beer Hall at Xfinity Live! Naughty or nice, you're invited the biggest holiday drag show in the city.
Special brunch menu, holiday cocktails and more!
Communal Seating Disclaimer: Our communal tables sit up to 8 guests but are sold as 4 tops. Your party of 4 will be seated with another party of 4 unless you purchase all 8 seats.
Sunday, December 12 | 11:00am
Victory Beer Hall inside Xfinity Live!
About Brittany Lynn's Drag Mafia
Brittany and her drag troupe have been performing all across the tri-state area for over twenty years, serving you the best in celebrity impersonation. Get ready for all the high kicks, flips and twirls, stand-up comedy, live singing, and more with Philly's finest divas!
Brittany Lynn is not only the "Don" of the Philly Drag Mafia, but she also created the Miss Fancy Brigade (the only all LGBTQIA Mummers Brigade that proudly marches every New Year's Day in the parade), and she created the Drag Queen Story Time program for the Philadelphia Library system, museums, and Philadelphia Parks and Rec.
Drag Mafia is the most award-winning drag troupe around-not only for their shows, but for their work with multiple charities on various platforms.
Birds vs NY Giants Away Game Watch Party

Xfinity Live!

Secure your table now!

Xfinity Live!

Philly's longest running & best Santa Crawl is back!

Birds vs NY Jets Away Game Watch Party

Xfinity Live!

Secure your table now!

Xfinity Live!

Performance by Delaware Native and reigning CMA New Artist of the Year Jimmie Allen!