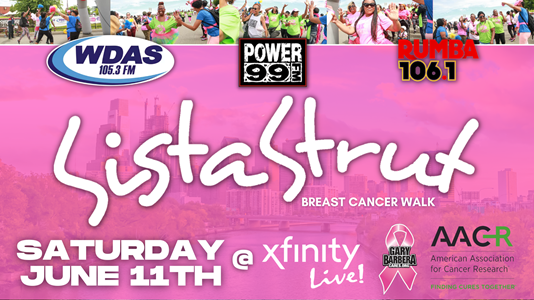 Sista Strut
3K Breast Cancer Walk
105.3 WDAS, Power 99, and Rumba 106.1 present the 5th Annual Sista Strut 3K Breast Cancer Walk, returning to Xfinity Live! Philadelphia on Saturday, June 11, 2022! Rally starts at 8am, with the walk beginning at 10am.
WHY WE STRUT
Did you know that African American women have a 41% higher death rate from breast cancer than white women and are more likely to be diagnosed before age 40? Among Hispanic women, breast cancer will be the leading cause of cancer death (16%), followed by cancers of the lung (13%) and colorectum (9%). That needs to change! Get involved with the Sista Strut and make a difference!
The goal of Sista Strut is to heighten awareness about the issues of breast cancer in women of color, as well as provide information on community resources. Sista Strut recognizes the strength of survivors, their family and friends, heightens awareness, promotes early detection and the search for a cure.
A portion of the proceeds to benefit the American Association for Cancer Research.
UFC 276 Watch Party

Xfinity Live!

Xfinity Live! is your UFC Watch Party destination. FREE Entry!

Night Nation Run

Xfinity Live!

The World's First Running Music Festival!

Gilson Summer Snow Day

Xfinity Live!

The forecast is calling for snow this summer!

Taco Fest Day 1

Xfinity Live!

Taco Heaven Awaits!